Mike Fitzgerald
LICENSED PURE SWEAT SKILLS COACH
Fitz is a Pure Sweat Basketball skills coach in St. Louis,MO and also the head women's basketball coach at Fontbonne University.
Fitz specializes in shooting and works with some of the top players in the area to improve their shooting technique.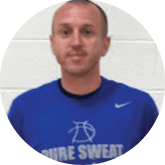 MY GOAL IS RAISE EVERY PLAYERS CONFIDENCE AND SKILL LEVEL THROUGH FOCUSED GAME LIKE DRILLS.