Chauncey Beckett
LICENSED PURE SWEAT SKILLS COACH
Chauncey Beckett is a Pure Sweat basketball skills coach in the northern Virginia area, mainly working out of Fairfax County. Chauncey played collegiate basketball for several years before deciding to move into a coaching and skill development role to continue to be involved with his lifelong passion of basketball. Over the past seven years, he has worked with players of all ages and skill levels, from youth basketball to high school to collegiate and professional players. His goal and mission is to help young players today develop their skills and abilities to realize their dream of playing basketball at a high level.
With a unique style, Chauncey specializes in training that helps athletes develop and improve their skills so that they carry over to when they are needed most; in game action. The goal for all of his athletes is to become better players and better teammates.
Chauncey hosts camps and clinics throughout the year and has worked with several teams and youth organizations in the northern Virginia area.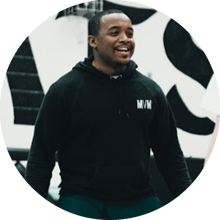 A good trainer can change a game. A great trainer can change a life.