Ben Edelburg
LICENSED PURE SWEAT SKILLS COACH
Ben has had a significant impact on the careers of numerous professional and amateur players. With extensive experience in the industry, he has assisted in NBA workouts for players such as Jayson Tatum, Zach LaVine, Bradley Beal, Kelly Oubre, and many more. He has also personally trained multiple overseas pros, including country leading scorers and league MVPs.​
His passion for developing talent extends beyond the professional level. Ben has helped multiple college players earn professional contracts, and his efforts have resulted in 50+ high school players gaining college interest, earning roster spots, and securing scholarships. In addition, Ben has coached AAU and high school teams for five years, bringing his wealth of experience and knowledge to young players at different stages of their basketball journey.​
Ben's dedication to his craft has not gone unnoticed, with 30+ all-conference awards this year alone. However, his focus is not only on elite players, but also on youth development. He has helped hundreds of young players earn roster spots, score more points, and most importantly, have fun while playing the game they love.​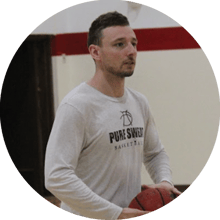 The best part about being a trainer is that I am able to help players reach goals that were only dreams at one time.