Gabe Gibbs
LICENSED PURE SWEAT SKILLS COACH
Coach Gibbs, a former NCAA and Professional athlete, possesses a wealth of knowledge and experiences that he seamlessly translates into his coaching. With a strong emphasis on player development, Coach Gibbs is dedicated to helping athletes of all skill levels reach their full potential.
Based in Vancouver, Coach Gibbs is a highly experienced Professional Skills coach with over 10 years of expertise in the field. He prides himself on delivering top-quality training, utilizing a curriculum that is on par with what Professional Athletes receive.
What sets Coach Gibbs apart is his commitment to staying at the forefront of the industry. He has had the privilege of working alongside renowned experts in the field, including assisting with NBA workouts and more. This exposure has provided him with invaluable insights that he shares with his athletes, ensuring they receive the most effective and cutting-edge training methods available.
Whether you are a local athlete or based abroad, Coach Gibbs's academy is equipped to assist you. He offers comprehensive player development programs designed to enhance your skills, regardless of your current level of expertise.
Don't miss the opportunity to work with Coach Gibbs and take your game to new heights. Join his academy today and unlock your true potential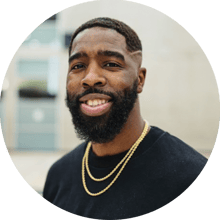 FROM GRASS ROOTS TO PROFESSIONALS. MY GOAL IS TO HELP IMPROVE YOUR GAME, LEARN THE NECESSARY INFORMATION AND GIVE YOU THE TOOLS TO HELP YOU SUCCEED AT YOUR NEXT LEVEL.