Kyle Gilreath
LICENSED PURE SWEAT SKILLS COACH | VP OF OPERATIONS & DIGITAL MEDIA
Kyle Gilreath is a Pure Sweat Basketball skills coach in the Central Florida area and the VP of Operations & Digital Media for Pure Sweat Basketball. Kyle previously served for seven seasons as the head boys basketball coach at Astronaut High School (Titusville, FL).
Kyle is a graduate from the University of Florida in 2009 with a BS and MS in Sport Management. While at Florida, he won 2 National Championships working on staff with the men's basketball program under then head coach Billy Donovan.
Kyle specializes in shooting and has a track record of increasing player's skills and helping them get to the next level.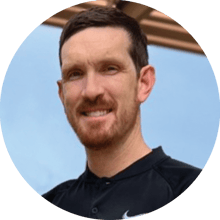 MY GOAL IS TO HELP EVERY PLAYER HAVE THE TOOLS NEEDED TO FULFILL THEIR DREAMS.