Steven Johnston
LICENSED PURE SWEAT SKILLS COACH
Steve Johnston is a professional basketball skills coach. He's based in Southern & Northern parts of Connecticut as well as parts of Westchester County in New York.
He's works with youth through the professional level. Has helped develop over 30 players playing various levels of college basketball. Trains several professionals including one WNBA player & has helped workouts with numerous NBA players ! Steve has also traveled for clinics in several countries including China & Spain.
Steve's purpose aligns with Pure Sweat's in order to provide high quality training within the basketball industry. He does individual, group & team training as well as personalized consulting. Thus supplying a holistic experience when it comes to preparation for playing basketball!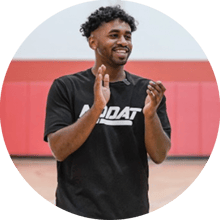 STEVEN PROVIDES A HOLISTIC EXPERIENCE WHEN IT COMES TO TRAINING AND PREPARATION FOR BASKETBALL!