Drew Slone
LICENSED PURE SWEAT SKILLS COACH
Drew Slone is currently a basketball skills coach in Columbus, Ohio. Over the course of his coaching career, Drew has worked with elite players from the high school, college, and pro level, with a style based on relationship building and caring. Drew's goal is to be a positive impact on the basketball community.
Before becoming a skills coach, Drew coached at the high school level for 8 years. For his first 4 years, he coached at his alma mater Grove City Christian, followed by stops at Central Crossing High School and Hilliard Bradley High School. He is currently an assistant coach at Olentangy Liberty High School.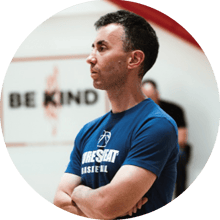 SUCCESS ALWAYS LOOKS EASY TO THOSE WHO WEREN'T AROUND WHEN IT WAS BEING EARNED.